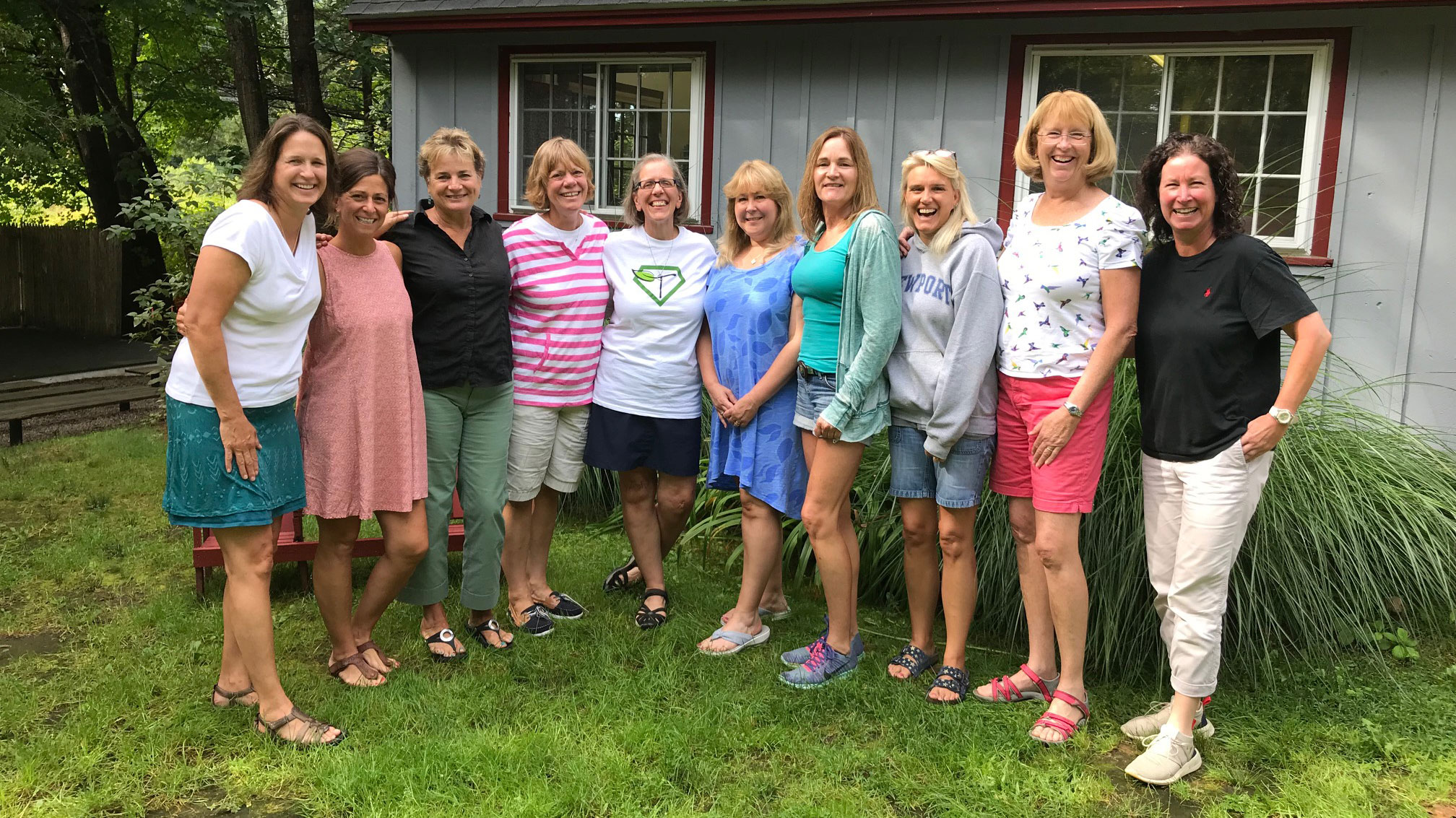 Susan Bendroth - Director, Mighty Oaks
 I am the Director and one of the kindergarten Mighty Oak teachers. I have a B.S. in Occupational Therapy from the University of New Hampshire with more than 30 years of experience working with preschoolers and kindergarteners guiding them along their developmental path of acquiring social, emotional, physical and academic skills through Acorn's science and social studies curriculum. All four of my children attended Acorn School. My goal and desire for every Acorn student is to develop an "I can" attitude, to understand it is okay to make mistakes and to love to learn.
Leigh Daley - AM Chipmunks, AM Woolly Bears, PM Tadpoles
I teach the 3 year old Chipmunks in the morning and afternoon,  the 4 year old  AM Woolly Bears and the4 year old afternoon Tadpoles; so I get to be at Acorn School all day every day! I am a graduate of UNH, passed the PRAXIS in 2002 and was the permanent sub at Main Street School in Exeter for 20 years. I love all animals (especially horses as I started riding at age 9) and I sing, play guitar and the piano! I was in a female a cappella group (Mamapella) for 10 years and plan to sing with th Rockingham Choral Society this year.
Kelly Flynn - Mighty Oaks, AM Chipmunks
I teach in the Mighty Oak kindergarten and the morning 3 year old Chipmunk classes. My son was a Tadpole and then a Mighty Oak. My transition from parent to teacher has seemed like a natural passage! I have a Degree in Psychology and over 15 years of experience working as an educator of young children. I live in Stratham and enjoy tennis, travel and spending time with my family…and our several pets.
Chris Hochschwender - Mighty Oaks
I am one of the Mighty Oak kindergarten teachers. In 1986, I received my BS Degree in Elementary Education with minors in child Development and Psychology from Plymouth State University. I have also taught kindergarten and third grade in the past. I love to read and travel whenever I get a chance. I live in Newfields with my husband and three sons.  All three of my boys were Chipmunks, Chickadees and Mighty Oaks here at Acorn many years ago.
Margaret deRham - Mighty Oaks
I am one of the kindergarten teachers in the Mighty Oak classroom. I received my Masters of Science in Reading from Wheelock College in 1992. I also received my Bachelor of Science Degree in Early Childhood and Elementary Education with a major in Special Education from Wheelock College in 1981. My teaching experience over the years has included 4 year olds, kindergarten, first grade, second grade and children with special needs. I live in Newfields, NH with my husband and we have two grown daughters who also attended Acorn School many years ago. When I am not teaching I enjoy reading, traveling, time with my family an friends and being at Squam Lake.
Shelly Gordon - Chipmunk, AM Chickadee, Extended Day, Club Acorn
I teach the morning 3 year old Chipmunk class and the morning 4 year old Chickadee class, as well as Extended Day and Club Acorn. I have been part of the Acorn community since 2009 when my daughter became a Chipmunk and then a Tadpole. My son followed as a Chickadee and I loved the warmth of the teachers and the nature based curriculum. I became a boar member and enjoyed serving the needs of the school with a great group of volunteers. I have a B.S. in Education from the University of Kansas and taught elementary school for eight years before starting my family, so when I was ready to return to teaching Acorn was the perfect place. My outside of school life is full of outdoor family fun, art work, volunteer projects, reading and my favorite – adventurous travel!
Kimberly Schults - AM & PM Chipmunks, AM Chickadees, PM Tadpoles
My name is Kim S. I am lucky to teach the morning and afternoon 3 year old Chipmunk classes and the morning 4 year old Chickadee class and also the afternoon 4 year old Tadpole class. This is the start of my sixth year at Acorn School. I am looking forward to outside play, learning and growing with your child.
Karen Gray - Wooly Bears, Tadpoles
I am the lead teacher for two of the 4 year old programs, Woolly Bears and Tadpoles. I completed a two year vocational children's program in high school and received a childcare certificate. I have an Associates Degree in Early Childhood and have worked at various programs teaching young children which include, Community Child Care, YMCA Daycare, summer camp programs, Gymboree Play and Music for 8 years and Agape Preschool for 16 years prior to hire at Acorn in September 2018. My preference for teaching the young child is their excitement and willingness to learn. As a teacher of this age group, I have the opportunity to really get to know their individual personalities and prepare my curriculum according to the children's needs. For that I am grateful.
Becky Shepard - Music Director
I am Becky, the founder of Acorn School back in 1972,  and I teach music at Acorn! I live in Exeter with my husband Dudley ad two dogs, Zipper and Willy. I like to play golf and tennis and I also like to write musicals for the theater. Most of all I LOVE ACORN SCHOOL!
Kathryn Swenson - AM Chipmunks, Wooly Bears, Extended Day, Enrichment, Chippie Cheeks, Club Acorn
I am Kathryn Swenson and I teach in the morning 3 year old Chipmunk class and the 4 year old Woolly Bear class. I also work with the Extended Day, Enrichment , Chippie Cheeks and Club Acorn programs. I have a Bachelors in Early childhood from Coly Sawyer. I am a huge animal lover.
Kimberly Williams - Yoga Teacher, Mighty Oaks, Chipmunks
I can be found in the Acorn office, on my yoga mat sharing my love of yoga with the Mighty Oaks and also having lunch with the 3 year old Chipmunks. My connection with Acorn began many years ago as a parent. My two alumni sons will quickly tell you that their years at Acorn were "awesome!!" My BS in Nursing compliments my Childlight Yoga Teacher Certification.